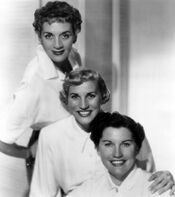 "Bei Mir Bistu Shein" (Yiddish for "You are beautiful to me"), also recorded as "Bei Mir Bist Du Schoen", a title that mixes Yiddish and German, is a popular Jewish-American song that has been performed and recorded by numerous musicians, both Jewish and non-Jewish.
The song was written in 1932 for a Yiddish-language stage musical called I Would if I Could (or Men Ken Lebn Nor Men Lost Nish in Yiddish). It was composed by Sholom Secunda with lyrics by Jacob Jacobs. The original Yiddish-language version of the song takes the form of a duet, with a man and a woman singing alternate lines.
When I Would if I Could closed after one season, Sholom Secunda sold the rights to the song for thirty dollars. In 1937, the rights to the song were acquired by the lyricist and songwriter Sammy Cahn. Together with composer and musical director Saul Chaplin, Cahn wrote English language lyrics to the song, although the title remained in Yiddish, and adjusted the rhythm to make it more typical of 1930s swing music.
The Andrews Sisters recoreded the English-language version of the song on November 24, 1937. They earned a Gold Record for the song, becoming the first female vocal group to do so.
See also
External links
Ad blocker interference detected!
Wikia is a free-to-use site that makes money from advertising. We have a modified experience for viewers using ad blockers

Wikia is not accessible if you've made further modifications. Remove the custom ad blocker rule(s) and the page will load as expected.