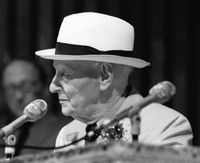 Isaac Bashevis Singer won the Nobel Prize in Literature in 1978. He wrote mostly in Yiddish. Mr. Singer wrote about Jewish life in Eastern Europe in short stories, essays and novels. He was born in a small village outside of Warsaw, Poland in 1902 and died in Miami, Florida, U.S.A. 1991.
Quote


Doubt is part of all religion. All the religious thinkers were doubters.
-- Isaac Bashevis Singer
Works
Some of his works include
Related
External References
Ad blocker interference detected!
Wikia is a free-to-use site that makes money from advertising. We have a modified experience for viewers using ad blockers

Wikia is not accessible if you've made further modifications. Remove the custom ad blocker rule(s) and the page will load as expected.