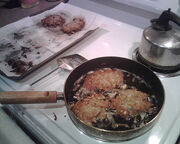 Latkes
are potato pancakes. The primary ingredient is shredded potatoes; other ingredients can vary, commonly including onions, eggs, oil, wheat flour or matzo meal. Less common ingredients are corn meal, garlic, sweet potatoes, apples, carrots or zucchini.
Latkes are often eaten for Hanukkah. They are not required by any religious law. The association with the holiday is just by custom. Latkes may be eaten at any non-fast time. Also, since they don't need any leavening, they can also be eaten for Passover.
Variations
Some people like to eat latkes with sour cream; others prefer applesauce. Which is better can be one of those big debates. A few people "split the difference" and use both sour cream and applesauce. Some people eat them with jelly. (I've only heard of this once and didn't hear what kind. Have you heard of this?)
Latkes are also good cold or reheated.
Traditionally, latkes are fried, but there are good recipes for baked latkes.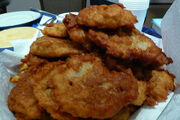 Links to recipes
Recipes from