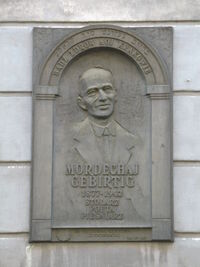 Mordechai Gebirtig (also spelled Mordche Gebirtig; 'Apri 4, 1877 - June 4, 1942) was a talented Polish Jewish song writer in the first half of the 20th century and a Holocaust victim. Gebirtig's most famous work was the 1938 Yiddish language song "Undzer Shtetl Brennt" which became a fighting song for Jewish resistance forces during World War II. When the Nazis came for Gebirtig's community they shot him, presumably they knew he would have caused them problems if he had stayed alive.
External links
Videos
Below are YouTube versions of Mordechai Gebirtig's famous song.
Ad blocker interference detected!
Wikia is a free-to-use site that makes money from advertising. We have a modified experience for viewers using ad blockers

Wikia is not accessible if you've made further modifications. Remove the custom ad blocker rule(s) and the page will load as expected.