The word Seder means order. The Hebrew word is סדר. Depending on the denomination of Judaism practiced, Seder is used to refer to the ritual dinner held on first or first and second evenings of Passover. The Seder follows a particular order. It includes the retelling of the story of the Exodus of Moses and the Israelites from Egypt. Participants eat special foods and another standard part of the dinner is to explain the meaning of the different foods and why they are eaten at this time.
Spelling alternatives: Sedar, Seder, סֵדֶר
Occurs on the 14th day of Nisan and 15th in the Diaspora.
Observances
At a religious sedar, a specific order is followed for the meal. The haggadah is a combination of a prayerbook and script for the evening.
Prayer over the wine (or grape juice) and enjoy a glass
Wash hands
Dip and eat greens
Break a matzah piece and hide half
Tell the story of Pesach
Wash hands
Prayer over grain/bread and eat matzah
Eat bitter herbs
Mixed herbs and eat
Main meal
Find the hidden matzah (afikomen)
Thank G-d for the food
Praise
Conclusion
Surrounding this framework, there are different traditions within families or regions. Songs are sung at various points, especially at the beginning and end. Gifts may be given to children, especially a prize for the one who finds the afikomen.
Variations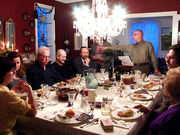 In some families the Pesach Seder is more like a Thanksgiving dinner with no religious content.
Some communities have shared African-American / Jewish Sedars to celebrate coming out of slavery.
One tradition is that the Seder is not done until you've learned something new.
Having guests (or taking turns hosting) is also a common tradition. Some places the local congregations or Hillel will help place students who are too far from their homes with families for the Seder. Other colleges may have student Seders.
In the Diaspora, that is Jews outside of Israel, the first two nights of Passover are celebrated with a Seder. Arranging for major, festive meals two nights in a row can be difficult, but to make it easier, families often get together. The Passover Seder is usually a time for families, sometimes extended families and friends to get together. A couple might spend one night with each of their parents'.
Many congregations have a Seder for members to share -- often on the second night.
Related
External links