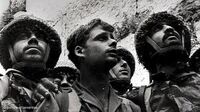 The Three Soldiers were three Israeli paratroopers that were among the Israeli soldiers that recaptured the Old City of Jerusalem. A picture was taken of them as they stood at the Western Wall. Their image depicting the moment of reunification of Jerusalem in 1967 has become famous.
The three battle-weary paratroopers stand in awe at their surroundings stunned in amazement at the recapture of the Temple Mount and the Western Wall.
Ad blocker interference detected!
Wikia is a free-to-use site that makes money from advertising. We have a modified experience for viewers using ad blockers

Wikia is not accessible if you've made further modifications. Remove the custom ad blocker rule(s) and the page will load as expected.